Meet Rachel

In February of 2022 Valentine Roofing partnered with Spirit 105.3 to provide a free roof to a listener in need. Listeners nominated hundreds of deserving folks around Puget Sound. Rachel, a local single mother received several nominations from her neighbors and friends in Lake Stevens. Another single mother, Amy, shared the reason behind why she nominated Rachel. Their story touched everyone at Valentine Roofing and Spirit 105.3.
Amy said, "Rachel is the most selfless person I know and one of my longest friends. My kids and I had to unexpectedly leave our home and with out a second thought she let us move into her home, sharing everything. It has been a year and a half now. Because of her kindness and generosity my kids have never had to sleep in our car or be with out shelter. She did this while going through multiple of her own tragedies; dealing with her mothers Alzheimer's, her abrupt separation, a confusing health crisis and then death of her father. When it feels like you are constantly in the trenches it can be hard to expect anything less and constantly second guessing everything. I would love for her to get a new roof, that doesn't leak like the current one, and not have the weight of yet another thing on her shoulders."
Rachel's neighbors described her as "having a positive spirit which radiates to those around her." It is clear that Rachel positively impacts everyone in her life. Despite her recent hardships, every nomination mentioned how she is always giving to others, a testament to her selfless nature. Rachel had made a few repairs on her roof to remedy an active leak but was unable to afford what was really needed. A whole new roofing system.
During our inspection, we found that Rachel's attic had mold, not uncommon for the Northwest. Most of the mold was concentrated around the outdated solar-powered gable fan vent and the past roof leaks. The attic insulation was in good shape but did not meet DOE recommendations. We also found evidence of active leaking near a kitchen exhaust vent. The shingles were showing signs of granule loss, moss build-up, and widespread black streaking algae. We also noted that her gutters were pulling away from the house. Potentially due to the lack of fascia on the gutter edges. Utilizing this information our team created a comprehensive plan that would address each issue.
The roofing crew got started by removing both layers of roofing material from Rachel's roof. With the old material removed, the crew was able to replace the plywood affected by mold, installing new ½ inch CDX plywood in its place. Before installing the new roof the crew removed the outdated gable fan allowing for the installation of a new ridge vent system.
The updated and balanced ventilation plan that was installed allows better airflow through the attic. Eliminating moisture as well as mitigating mold in the future. The crew installed a new ridge vent for a sleek, low profile appearance and optimum performance. The attic was updated with new insulation to meet DOE recommendations for the Northwest. Both updates will restrict mold growth in the future, protecting more than just the attic.
In keeping with Rachel's vision for her home, we installed Onyx Black Duration shingles. A striking choice for the modern touches she will be adding. The Duration shingles with patented StreakGuard technology are great protection against algae. One issue on Rachel's old roof. New metal accessories and metal valleys were included for longevity and color-matched with the new roof.
Finally, a new 5K aluminum gutter system was installed. Before the gutter crew set to work on the custom-fit gutters, new 6-inch fascia boards were positioned along the gutter edges. The fascia allows for the most secure hold when hanging the gutters. The new gutters will divert water off the roof and away from the home. Every aspect of this project works as part of an entire system designed to keep Rachel, her family, and her home protected, and comfortable for years to come.
With a new roof, attic insulation, and gutters completed on Rachel's home she felt a sense of relief. Rachel commented, "I think there's just something so powerful about the ability to give people a space to breathe for a second. I think that we have been given that."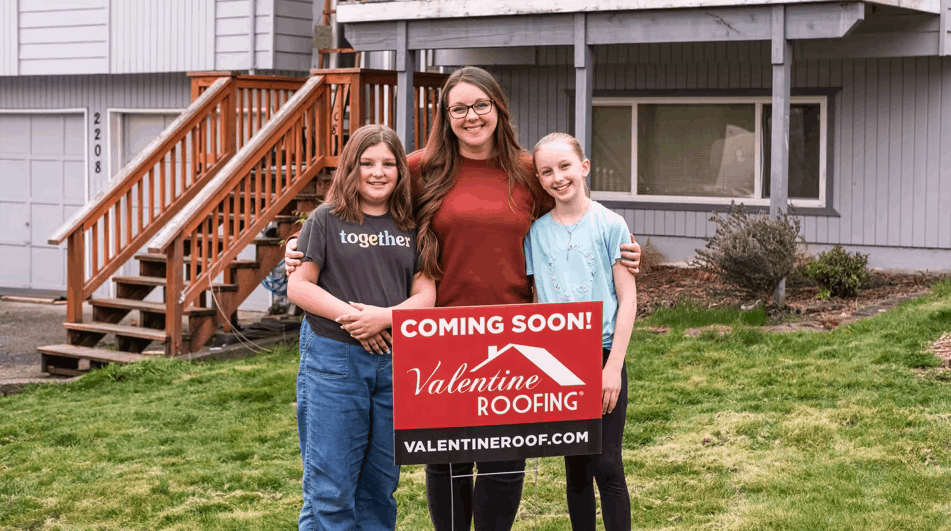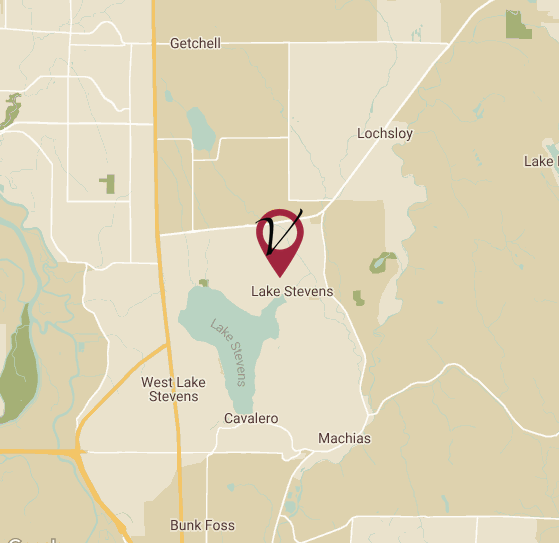 Project Specs
LOCATION: Lake Stevens, WA
ROOF TYPE: Composite roof
ROOF PITCH: 4/12
SHINGLE TYPE: Owens Corning Duration®
SHINGLE COLOR: Onyx Black
GUTTER TYPE: 5K Aluminum
GUTTER COLOR: Lo Gloss White
PROJECT NOTES: New plywood was installed to replace plywood affected by mold. The solar attic fan was removed. An updated ventillation system was installed for balanced air flow. The attic insulation was topped off with new blown in attic insulation to meet DOE recommendations. New fascia was secured along the gutter edges.