6 Easy Ways to Make Your Home More Energy Efficient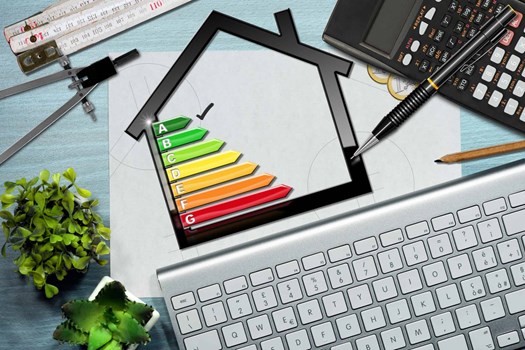 Is Your Home Costing You Money?
Your home might be wasting energy in a number of places. The costs can really add up throughout the year. Fortunately, there are easy steps to improving your home's energy efficiency. When deciding which improvements to make on your own home, consider whether the improvement checks off at least one of two factors. Energy efficiency is the result of less energy consumption. Or when it requires less energy to perform the same task as before. Energy efficiency also happens when a more robust heat transfer barrier between the inside of your home and the outside climate is created. Anything that improves the building envelope will result in less energy consumption overall. If the idea of energy updates feels overwhelming, rest assured that there are some simple ways to create impactful energy updates. This list of 6 ways to create a more energy-efficient home includes updates that can happen in a day and some that create larger-scale savings.
1. Update Your Home's Insulation
Insulation plays a large role in the overall energy efficiency of your home. Insulation acts to block heat transfer. Keeping warm air inside during cold winter months and outside during hot summer days. Most homes in the northwest are underinsulated according to the Department of Energy. Updating insulation throughout your home, and especially attic insulation because heat rises, will noticeably increase your home's energy efficiency. According to the EPA, having adequate insulation can save the average homeowner $200 in energy costs annually. In addition to these savings, Puget Sound Energy offers rebates on attic insulation upgrades. Most insulation projects only take about one day to complete. Which means you can start saving faster.
2. Upgrade/ Replace Old Windows, Doors, and Skylights
Speaking of energy costs, windows are responsible for up to 30% of the heating and cooling energy use in your home. Outdated, windows, doors, and skylights allow heat a quick escape. It can't be said enough how much effect the envelope of your home can have on energy efficiency. Technology has evolved in windows, doors, and skylights. Minimizing heat transfer. Features like Low-E coatings, dual panes, edge spacers, and stabilizing gases have created a superior product when it comes to energy efficiency. Updating windows, doors, and skylights will reduce energy use overall. Rebates are also available for updating to more energy-efficient products.
3. Change Out Your Old Lightbulbs
With lighting accounting for nearly 15% of a home's electric use, having energy-efficient lighting both inside and outside the home is a quick way to save on energy costs. The average household can save up to $225 annually when switching to more energy-efficient lighting. When it comes to energy efficiency, LED bulbs are the most effective. With replacements for 40W, 60W, 75W, and 100W bulbs, along with other specialty bulbs like recessed bulbs and track lighting, LED makes the switch easy. LED technology allows for long-lasting bulbs that require a fraction of the energy of traditional bulbs. Since LEDs do not emit much heat they can also contribute to more manageable climate conditions inside the home. Without additional heat coming from lighting, it reduces the need for additional cooling in the summer months. Many outdoor lighting options are offered in solar, further removing the need for electricity.
4. Choose Energy-Efficient Materials for Exterior Remodels
Your home's building envelope plays a large role in energy efficiency. It is important to consider materials that provide energy positives for remodels and updates on the exterior of your home. The right material will immediately improve energy consumption and create a lasting effect. For roof replacements, consider the color or type of material. Lighter-colored roofing shingles are UV reflective. This benefits the heat transfer barrier of the home. Owens Corning offers a line of shingles that are EnergyStar-rated. These shingles are designed for optimum solar reflectance. PVC membrane is also considered an energy-efficient material. The membrane is engineered with reflective properties for a longer-lasting product. The reflective properties result in optimum energy efficiency. When you further combine a PVC membrane with a polyurethane rigid foam (a common insulator used in this roofing system), it creates an even more robust roofing system with stellar energy efficiency properties. Another material to consider for both roofing and siding is metal. Standing seam metal material reflects solar radiant heat. For optimum energy efficiency choose a material during your exterior home improvements that will provide lasting energy efficiency for your home.
5. Furnace/ HVAC Updates
Annually, a household will spend thousands on energy bills with nearly half of the costs stemming from heating and cooling. While the building's envelope plays a large role in the efficiency of a home, the furnace system is equally important. If your current system is 10 years old and older, now is a great time to consider an upgrade. A new EnergyStar-rated system will improve your home's heating and cooling efficiency by as much as 70% in some cases. Your home will stay cooler in the summer and warmer in the winter while saving you money.
6. Eliminate Energy Vampires
On average, a typical household will have roughly 40 items plugged into an electrical socket at any given time. Most of these items draw energy even when they are not in use. Items like computers, coffee pots, TVs, and other electronics can continue to draw as much as 25% of their full power even when switched off. These items are often referred to as energy vampires. There are easy ways to minimize your home's vampire load and save on your monthly electric bill. The easiest way to save is to unplug items while not in use. Though this can feel like a real chore for some people. Another way to reduce phantom energy use in your home is to utilize power strips. Power strips often come with a toggle allowing for multiple devices to be disconnected from power quickly. Some power strips are smart, meaning they work on timers or can be remotely turned on and off using a smartphone or other smart devices. Speaking of smart devices, switching to smart water sensors and smart thermostats can help to manage the electrical draw of your home's water heaters and furnace systems. Finally, switching to more energy-efficient light bulbs like LEDs will reduce the vampire loads from your lights. Eliminate your energy vampires for an immediate boost in your home's energy efficiency!
Energy Efficiency Savings Can Really Add Up
Creating a more energy-efficient home will always result in monthly and annual savings. Did you know that you might qualify for more savings in the form of grants and rebates? That is right. Federally, there are often rebates and grants, and tax credits associated with energy-efficient upgrades. You can check out the EnergyStar or IRS websites to find the most up-to-date information on available tax credits. For available grants check with the US Department of Energy. Your local utility company will often have more information on direct rebates as well. Get the most out of your home improvements and see if your project qualifies for any additional grants, rebates, or tax credits.