7 Tips for Choosing a Reliable Home Contractor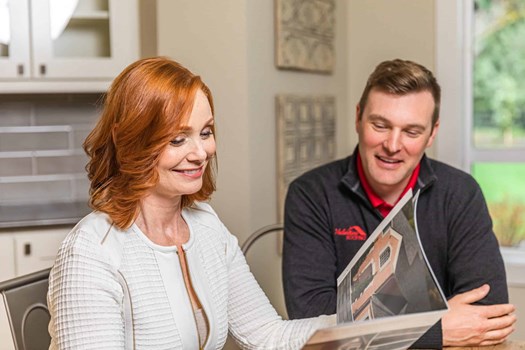 When beginning home renovations or home improvements, the contractor you hire can make the difference between a great experience or one that leaves you underwhelmed. The residential contractor in charge will manage labor, work with various vendors to secure materials, and oversee all the logistics of the project from start to finish. A great roofing contractor will guide you through your home improvements seamlessly.
Not all Puget Sound contractors are created equal. There are some things to consider when looking for your next roofing contractor that will ensure they are not just a run of the mill contractor but one that is transparent, reliable, honest, a delight to work with, and will see your project through exceeding your wildest expectations. Check out our tips below for what you should look for when hiring a contractor for your home improvement projects this year!
#1 - Get Three Bids
It is good practice to get multiple bids for a project. It allows you to connect directly with the roofing contractor representative to decide if working together is a good fit for your needs and project goals. It also allows for a comparison of the relative value provided by each contractor. At Valentine Roofing we say "Get three bids, just make sure one of them is Valentine Roofing." We believe in earning your business respectfully and honestly.
#2 - Transparent Pricing
An honest roofing contractor will always provide their best price forward along with a clear scope of the project. Watch out for lowballing, price dropping, or steep discounts that expire rapidly. They are typically an indication of dishonest pricing among other things. Tom Silva of This Old House recommends that homeowners, "Throw out the lowball bid. This contractor is probably cutting corners or, worse, desperate for work."
#3 - Ease of Estimate
Getting an estimate from a reliable roofing contractor will be simple and straightforward. Great roofing contractors will provide an estimate when they say they will. Estimates will be provided relatively quickly depending on the scope of the project itself. An estimate from a dependable residential contractor will never be high pressure and will include always include the scope of the work to be performed along with actual pricing, allowing you to make a decision confidently. Valentine Roofing is organized and prepared, often providing potential customers with an estimate in about an hour along with relevant information to make an informed decision.
#4 - Clear Communication
When choosing a contractor for any project, pay attention to their communication from the start. Responsible roofing contractors will provide consistent and reliable communication. You can expect them to answer and return phone calls in a reasonable time frame, respond to emails quickly, and answer all your questions completely. Communication before the project begins often sets the tone for communication during the project, as well as after the project. Seamless communication is a tenet of The Valentine Experience. We provide information our customers can rely on before, during, and after their project, keeping them in the loop every step of the way.
#5 - Reputation
Rely on reputable sources to provide information about what a real customer experience with the contractor might be like. Review sites like Angie's List, third party companies like Better Business Bureau, along with recommendations from neighbors, family members, or social networking sites like Next Door, can provide honest and reliable insight into a potential contractor. A trustworthy roofing contractor will have high ratings, along with word of mouth recommendations, from places like those listed above.
#6 - Licensed, Bonded, and Insured
In Washington state, it is required that contractors provide a Disclosure Statement Notice to Customers that includes most of this information when signing a contract, but you should still check on these items during the bidding process and before you choose a Washington roofing contractor. In WA, you can easily check on a contractor's license and other important information directly on the labor and industry website. A good contractor will maintain a valid license, have adequate insurance, and carry a bond. For additional protection, you can request a roofing contractor add your property directly to their policy as "Additionally Insured" during the length of the project.
#7 - Warranty Their Work
Great roofing contractors will stand behind their workmanship and won't rely solely on manufacturer warranties which typically only cover the material itself. You can reasonably expect reliable contractors to offer workmanship warranties for your project. Ask before signing the contract what the roofing contractor's warranty includes and excludes.Once you have hired a roofing contractor using these 7 tips, it is important to set and understand expectations for both yourself as well as the contractor during the project. This will help avoid misunderstandings along the way. However, even with the most trustworthy and dependable contractors, the unexpected may arise. Make sure to allow the roofing contractor to work with you to solve any concerns or problems, they will have insight into best practices and workable resolutions that may be outside your original ideas. An honest roofing contractor will be upfront and resolution oriented for you!
If you are looking for home improvements this year, we encourage you to include Valentine Roofing as part of your bidding process.