Owens Corning 2024 Shingle Color Of The Year: Williamsburg Gray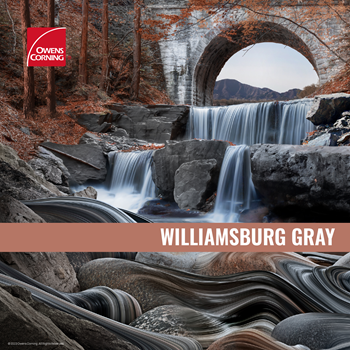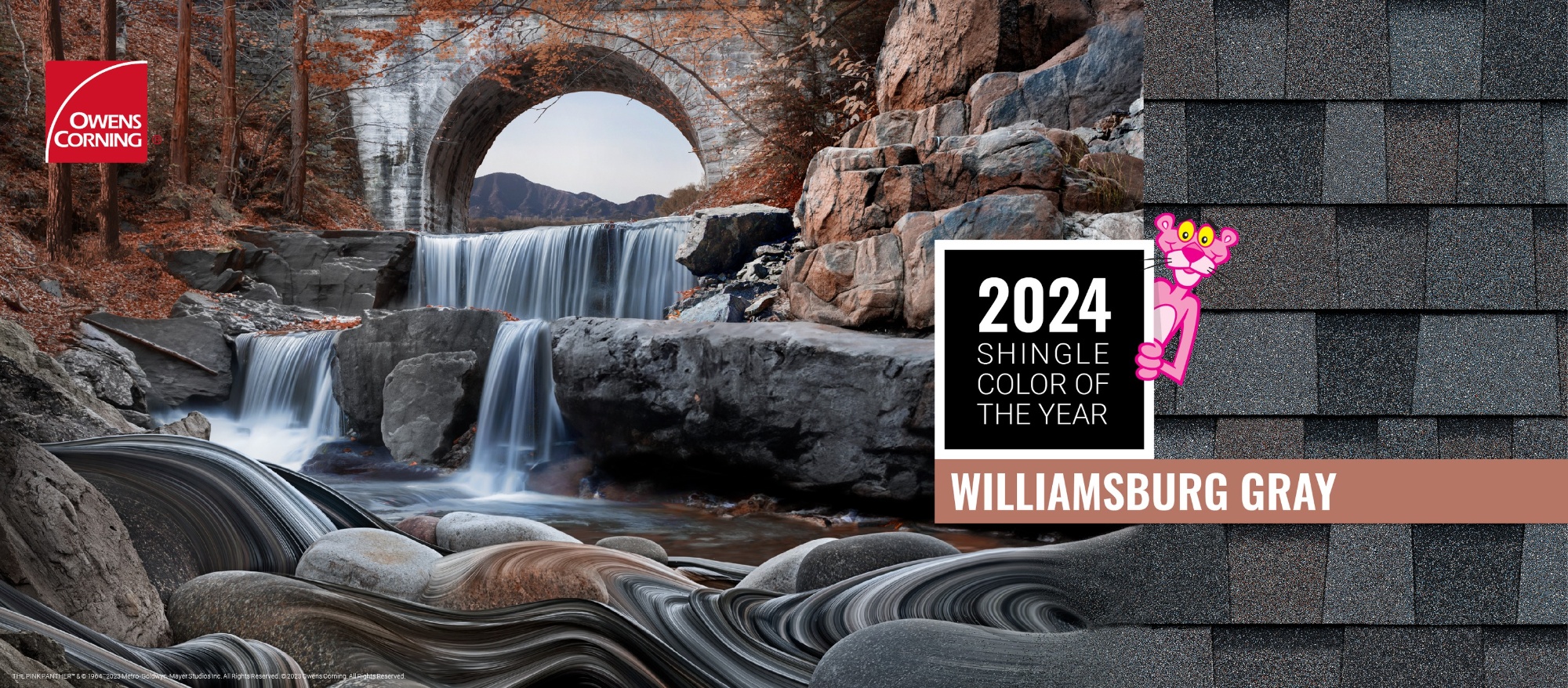 Owens Corning announced the 2024 Shingle Color of the Year: Williamsburg Gray!
Offering a modern take on conventional shades of gray, Williamsburg Gray is infused with nature-inspired tones that integrate slate grays, volcanic black shades, and earthy browns to deliver a timeless color statement on a home's roof.
Relaxing on the porch. Being one with nature. An ageless grace that never disappoints. This is the feel of Williamsburg Gray. Naturally inspired and rich in history, its vintage palette of slate grays and volcanic blacks is highlighted by the rugged browns of earth itself. A modern take on traditional beauty. This TruDefinition® Duration® shingle carries the advanced performance of patented SureNail® Technology, tough enough to weather the elements, year round.
The 2024 Shingle Color of the Year, Williamsburg Gray, was created to bring something new to a classic look. The Owens Corning design team was inspired by nature, taking cues from river-washed rocks and granite cliffs to craft a unique shingle color. Up close you see a complex mix of different colored granules—slate grays, volcanic blacks, earthy browns. From the curb they blend to create a wonderfully elegant yet understated look perfectly suited to numerous exterior palettes.
If you would like to install Owens Corning Williamsburg Gray roof shingles, call
Valentine Roofing
at (206) ROOFING and we can provide you a
fast & free roofing estimate
!
Valentine Roofing
is a
trusted roofing company
serving the Pacific Northwest with excellence in roofing solutions. With a commitment to quality craftsmanship, exceptional customer service, and innovative roofing technologies, Valentine Roofing has earned recognition as the
Best Roofing Company
of 2023 by The Seattle Times Best of the PNW contest. With over 15 years of experience,
Valentine Roofing
is the go-to choice for all roofing needs in the region.