The Benefits of Attic Insulation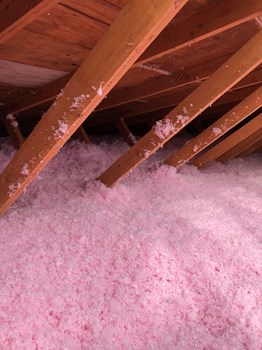 According to the North American Insulation Manufacturers Association, nearly 90% of attics in the Pacific Northwest are under-insulated. This leads to poor energy efficiency, less comfortable homes, opportunities for pests and more. You might be left wondering "is my attic under-insulated?" Chances are if your home is over 15 years old and you have not replaced your insulation in that time, your attic will likely have outdated insulation and probably does not meet the newest code requirements. For the Pacific Northwest an R-value between R38 and R60 is recommended by the Department of Energy for maximum thermal performance. In some cases, a simple top-off attic insulation service is all that is needed to bring attic insulation up to code while optimizing energy efficiency along with home comfortability. It is important to remove existing insulation and install new attic insulation if your old insulation is an outdated material like cellulose or if you have or have had rodents or other pests as well as any mold growth in your attic. Cellulose is an organic compound that breaks down, reducing effectiveness over time. It also attracts pests creating a perfect nesting material. Pests and mold lead to unhealthy conditions and removing all traces is important before putting new insulation in the attic.
Attic insulation has evolved over the years with improved technology now available. Fiberglass insulation no longer contains harmful chemical compounds like formaldehyde, making it the best option for most attic spaces. The material itself deters pests from calling your attic home, is non-flammable and is moisture resistant. These benefits combined make fiberglass blown-in insulation a safe option for every home.
Not only can you save up to 25% on heating and cooling costs with proper insulation, but many utility companies often offer rebates for these types of upgrades. In fact, Puget Sound Energy is offering rebates that help offset the up front costs of updating your attic insulation. Check out if you qualify: www.pse.com/rebates/insulation.
Insulation install does require the right tools and proper PPE. A licensed contractor will ensure attic insulation technicians have the right equipment to get the job done right! Trust your attic insulation upgrade to the professionals that are Top of the House Certified Platinum Contractors!