Valentine Roofing Awarded Top 100 Best Workplaces 2022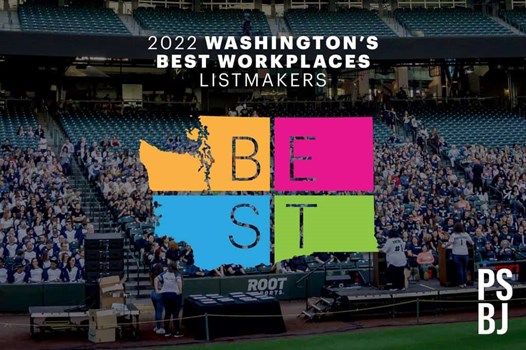 We Made the List!
Puget Sound Business Journal recognizes Valentine Roofing as a top place to work in Puget Sound. Every year this local organization publishes a list of Washington States' 100 Best Workplaces. Best Workplaces scores factor in 30 items across six categories including benefits, compensation, employee satisfaction, engagement, team dynamics, culture, and trust in leadership. The list is highly competitive and based on these employee ratings. This year Valentine Roofing has been awarded as a top employer!
One Team, One Vision
During a time when there seems to be so much uncertainty, we are honored to have been recognized by the very employees that are the foundation for our success. This honor recognizes the company culture we are building together at Valentine Roofing. Where we work together for the customer, the company, and the team. As one, we are building toward our vision. To be recognized for our integrity and positive impact within our community and to establish ourselves as the standard of excellence in our industry. This recognition as a top employer in Washington State is confirmation that we are making the right choices together!
Employee Led Advancements
Valentine Roofing continues to create a more flexible and beneficial work environment for everyone. Our employee experience features open doors, small group collaboration, seamless communication, and a cohesive community feeling inside the company. Employees are empowered to regularly talk with leadership. Team collaboration with leadership created meaningful changes in 2022.
Reconfigured PTO to allow more flexible paid time off in 2022
Expanded flexible work schedules to eliminate commutes during peak traffic times, more opportunities to work from home as needed
Employee lead goals that resulted in 10% increase in customer satisfaction
Engaged welcome program for incoming employees
THANK YOU to our team for making Valentine Roofing a 'Best Workplace'. It is because of you that Valentine Roofing is a top employer in 2022!
Join Our Team
If you would like to join the Valentine Roofing team, visit our careers page to see available positions and learn more.