Cold Weather Roof Installation Made Safe and Efficient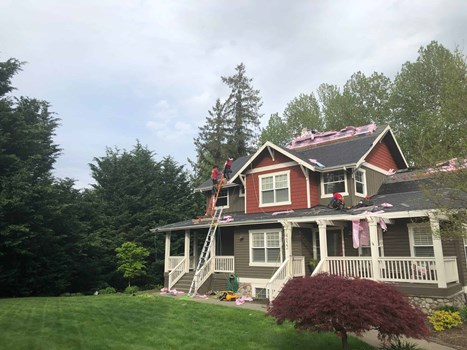 Here in the Pacific Northwest, the roofing season never truly ends. The Fall and Winter months present a new set of challenges including severe weather and temperatures that can make roof installations increasingly difficult and dangerous, taking more time to complete. Thankfully, with the continued advancements in roofing technology, cold weather roof installations are not only possible but safe and efficient using materials and tools geared towards cold weather climate roof installations.
When installing or repairing a roof in cold weather, it's best to use materials that are designed specifically to handle extremely cold temperatures and moisture during roof installations. The cold will often cause composition shingles to lose flexibility and become harder to work with. Roof shingles can split and crack among other things during roof installations under extremely cold temperatures. When roof shingles become "brittle", nails can be overdriven through the layers of material. Nails should always be installed flush with the shingle for the cleanest possible look. Some tools used by roofers like compressors and nail guns will also lose some efficiency in cooler temperatures. The sealant that adheres and "tabs" almost every composite shingle together typically needs warmer temperatures to activate properly and bond together. Without the sealant properly adhering, roof shingles can become dislodged from the roof or blown off entirely. Your roofing contractor should be knowledgeable of the manufacturer's requirements for installing the shingle properly and efficiently. The Duration Flex line by Owens Corning offers superior protection against the elements and is designed specifically for cold-weather installations here in Seattle and the Pacific Northwest region. Flex roof shingles are made with a proprietary blend of SBS polymer modified asphalt, giving them a rubberizing effect which allows them to be more pliable and flexible during installation. Flex shingles have the highest possible impact rating at 4 which makes it an ideal shingle for intense storm conditions. The patented Surenail Technology, wind resistance, adhesive power, and triple-layer protection truly set the Flex roof shingle apart from other competitive shingles. SureNail and Tru-Bond technology provide exceptional grip and wind resistance of up to 130mph, covering most Seattle area storm conditions. The highly visible SureNail woven fabric strip embedded into each shingle and a 200% wider common bond area enables roofers to accurately and efficiently install roofs, even in adverse weather conditions.
Safety is perhaps the most critical area of concern when it comes to cold weather roof installations. When working in near-freezing or sub-freezing temperatures, roof decking, underlayment, and other materials can become slippery and dangerous for roofers to walk on. The extra weight of tools, materials, and clothing can increase the risk of injury. With safety and efficiency being top of mind for our installations, we partnered with Owens Corning to develop a fully synthetic underlayment that is designed specifically for cold-weather roof installations and the Pacific Northwest region. Titanium X-30 by Owens Corning and Valentine Roofing provides exceptional cushion and traction underfoot during roof installation. Titanium X-30 enables crews to install materials more safely even in wet weather conditions. Unlike many other organic and hybrid underlayment options, Titanium X-30 will not tear or become unsafe to walk on in extremely cold temperatures. Because TX-30 rolls are nearly half as light, crews can work faster and more efficiently – shortening the roof installation time frame while keeping safety top of mind. Safety is always our #1 concern at Valentine Roofing. In addition to being equipped with the best materials for cold weather roofing installation, our roofing crews are always outfitted with all necessary safety equipment to ensure they are fully protected throughout the season. Safety harnesses, PPE, and continued training are just a few key ways we protect Valentine Roofing employees on the job.
Contact us today for more information or to schedule a fast and free estimate with our team today!