Duration Max Shingle Roof Replacement Project in Normandy Park, WA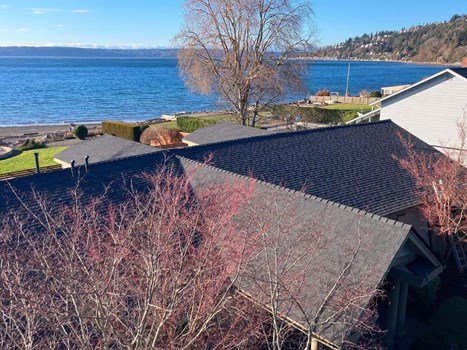 Composition roofs are by far the most popular and widely appealing style of roof installed on homes throughout the Puget Sound region. Asphalt or Composite shingles are an excellent and cost-effective roofing material that is very effective in protecting a wide range of home styles while also being easily paired with existing paint colors, gutters, accents, and more. Composition shingles can be installed on almost any roof pitch and in nearly any weather, with proper underlayment and safety equipment designed for Pacific Northwest use. In addition to its affordability, a composition roof replacement can increase a home's value and is one of the leading ROI home improvements that a homeowner can implement. As your home's first line of defense against the elements, a new composition roof is an invaluable investment that will protect you and your family for years to come.
The Valentine Roofing team recently completed a large composite roof replacement project (about 48 squares) for the Sanders family in Normandy Park, Washington - removing their 20+-year-old leaking roof and replacing it with brand new Owens Corning Duration Max shingles in the 'Carbon' color-way. Before the replacement began our crew performed a Leak-Stop over the roof's leaking areas, ensuring water damage and further leaks would not be a concern as the family awaited the kick-off of their project. Once our team got to work they replaced the damaged roof deck with brand-new CDX-grade plywood.
Due to the amount of damaged plywood and the number of leaks in the existing roof, the family opted to replace the entire roof deck - which can sometimes be a necessary step to ensuring the best possible results and longevity of the new roof installation. Once the new decking was installed over the main house and attached garage, our Owens Corning collaborative synthetic Titanium X-30 underlayment was rolled out and installed over the new plywood - providing exceptional, increased protection from the elements. Titanium X-30 is the latest advancement in underlayment technology, bringing increased safety and efficiency even in the worst weather conditions.
Engineered specifically for the Pacific Northwest climate, TX-30 allows roofers to work safely with increased walkability, tear resistance, and more. With this new cutting-edge underlayment installed over the roof deck, the crew began installing new Owens Corning Duration Max Shingles. Duration Max like the standard Duration line comes in a variety of colors such as Granite, Smoky Mountain, and sycamore. The homeowners opted for the 'Carbon' colorway which creates a beautiful contrast with the home's existing white exterior. The Duration Max line is a premium shingle offering a bold, thick high-profile appearance that replicates that of wood or shake roof shingles. Duration shingles have been named as a #1 top product by a number of industry experts and the name Owens Corning has become synonymous with exceptional quality. These new Duration Max shingles breathe a fresh and bold new life into the home's exterior - bringing a modern, yet timeless look that will carry through changing design trends for years to come.
To top it off the roof replacement project, the family decided to replace the existing gutters, which had seen better days with new 5k Seamless rain Gutters in Black with Lo Gloss White downspouts, diverting water off of the roof, safely away from the home. An efficient gutter system will prevent damage and ensure that water will not back up onto the roof and is kept away from a home's siding and foundation. With a gorgeous new roof and gutter system, the Sanders' home is now protected and ready to take on all of the Puget Sound weather for many years to come. We hope you enjoy learning about these home improvement projects as much as we enjoy installing them and being able to provide peace of mind to homeowners throughout Puget Sound. If you would like to learn more about the benefits of composition roofs and Valentine Roofing's replacement offerings, visit our composition roofing page today for more information.