Fall Roof Replacement Project with the Duration Premium Shingle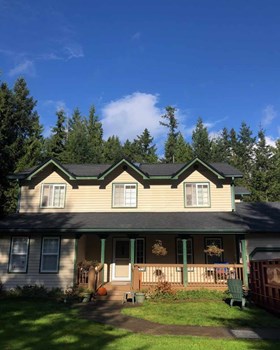 Every roof eventually reaches the end of its useful life and no longer adequately protects a home against the elements. In the Pacific Northwest, most residential roofs are replaced every 17-22 years. Most residential roofing systems will show signs of age long before a roof replacement is needed. Missing shingles, granules in the gutters or below downspouts, or an active roof leak are several key signs a roof is most likely in need of replacement.
In the Puget Sound region where we see roughly 42 inches of precipitation each year, it's extremely important to choose a roof material that will withstand the toughest weather conditions to protect your family and home. We recently helped the Andersons in Port Orchard, WA get their home winter ready with a new composite roof and 5k seamless aluminum gutter system. 20+ years of heavy rain, winds, moss, and debris had taken their toll on their previous architectural shingle and a leak had begun to form in at least one location. Some shingles had begun to warp and even split or crack in some places. Knowing that a repair in this case, would not be a viable option, our team made the recommendation to fully replace the roof.
The Andersons chose an Estate Gray Duration Series Premium Shingle from Owens Corning which closely matches the previous roof color, bringing a warm and familiar yet fresh, vibrant aesthetic to the home. The Duration Premium line is equipped with proprietary Owens Corning surenail technology, exceptional wind resistance, and a lifetime warranty - offering superior protection from the elements over comparable shingles. All new matching black metal flashings help efficiently direct water off of the roof, to the gutters below. New roof top vents ensure healthy airflow is maintained, preventing moisture buildup in the attic and home. All of these new components work in tandem to create a seamless and complete roofing system to protect and defend their home for years to come.
Like the Andersons, many Seattle area homeowners are part of a neighborhood community such as a home-owners association or HOA which can have restrictions and requirements on which roofing materials are allowed to be installed. Typically most composite architectural shingles are allowed, with the focus being that they are of a certain material quality and are aesthetically congruent with the neighborhood design. Other materials are permitted in some cases but typically options like pvc and metal are not allowed. Home-owners Association regulations are typically fairly straightforward and can be found easily by contacting your community HOA.
The Duration Premium Series Shingle is accepted by nearly every HOA and features a bold, dimensional appearance that elevates a home's curb appeal.About 7% of homeowners in the US re-roof each year. If your roof is starting to show signs of age, is leaking, or you're concerned about it's condition - it may be time to consider your roof replacement options. Contact Valentine Roofing today for a fast and free estimate on all your roofing, gutter, and insulation needs.