Gutter Polish Will Restore Your Gutters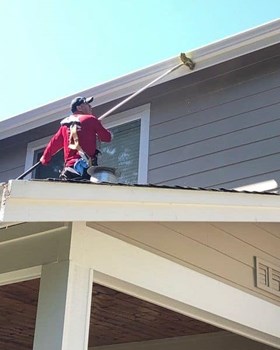 Over time dirt and grime can build up on the outside of gutters. This can leave gutters looking dull, patchy, or streaky, like 'tiger stripes.' Many home remedies for gutter polish use harsh chemicals that can damage the gutter finish or are just plain messy. Leaving your house looking worse than before. Many homeowners wonder what can be done about their old, dull-looking gutters.
The answer is simple, professional gutter polishing will revitalize the shine of your gutters and restore them to 'like new.' At Valentine Roofing we offer exterior gutter cleaning that is effective and safe. Our technicians use a non-toxic product to remove grime and dirt from the outside of your gutters that won't damage the finish, or your landscaping. The process of 'hand polishing' does not create a wet mess on your siding and windows. The hand polishing technique will make dramatically improve the exterior appearance of your home!
Revitalize and restore your gutters to their original shine
Safe, effective, and gentle on your gutter finish
Prevent tiger streaks, dirt and grime build-up
Improve the overall look of your home
You will see the difference a gutter polish can make for your home. From dull and worn to nearly new. This is one maintenance you won't want to skip on your home. Customers LOVE our gutter polishing services! Because it has a wow factor with dramatic change from before to after.
Estimates are always fast, easy, and FREE! Call our office today to learn more about our services and to add a gutter polish to your next roof cleaning or home care service!