How Manufacturing Can Positively Affect The Home Improvement Industry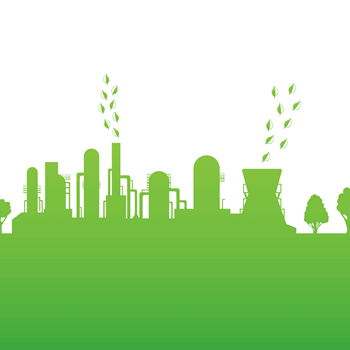 All materials have to come from somewhere. The way materials are produced can impact their sustainability. Added chemicals or wasteful production can greatly reduce any product's claim to 'green'. Behind every manufacturing process is the manufacturer itself. Some manufacturers fall flat when it comes to being eco-conscious. While others clearly lead the pack.
Owens Corning
Owens Corning manufacturers a number of building products like composition shingles, attic insulation, and more. While not many fortune 500 companies have a reputation for being eco-conscious, Owens Corning has been on a sustainable path for decades.
They have made continued improvements toward a circular manufacturing process to reduce waste-to-landfill, by reusing scrap material from the contractor. As a manufacturer they have already reduced the natural resources, such as water, that are used in their processes with the goal to continue cutting their use by 50%.
The company's entire portfolio focuses on advancing materials through technology. These advances reduce the product's footprint in addition to the company's.
These commitments have landed Owens Corning on several distinct lists for sustainability. In 2022 Owens Corning was ranked number 27 on the Barron's 100 Most Sustainable Companies list. You can also find Owens Corning in the 2022 Sustainability Yearbook from S&P Global with Gold Class distinction.
Ply Gem
Ply Gem is a manufacturer that is green in more ways than just its logo. Their approach to sustainable operation is comprehensive.
By limiting nonrenewable resources in operations they are able to minimize scraps. Oftentimes Ply Gem is able to reutilize scraps back into the manufacturing process further limiting waste. This practice has led to upward of 80% recycled materials used in some products.
As a manufacturer Ply Gem focuses on producing products that qualify for the Energy Star label for continued eco-benefits beyond manufacturing. The company's ideal is called Life Cycle Benefits. It results in materials that do not require much maintenance. In addition, their products do not need any chemicals or repairs for continued performance through the product's expected life.
As a matter of practice, the company also reduces energy usage during the manufacturing process whenever possible. They utilize dynamic transportation to minimize their carbon footprint. This holistic approach to manufacturing recognizes that the environmental impact of manufacturing plays a part in the sustainability of a product and is ecologically responsible.
Committed to Sustainability
If sustainability is important in your next home improvement project consider the manufacturer behind the product as well as the product itself. Look for manufacturers that commit to green practices and improvement over time. You can find a company's sustainability report directly on their website or ask your contractor!