How to Protect Yourself When Hiring a Contractor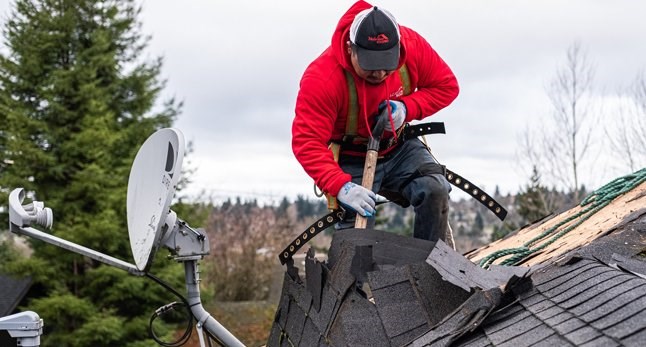 What do licensed, bonded, and insured mean?
To operate legally, every roofing company needs to have a contractor's license from the Washington State Department of Labor and Industries. This license is specific to contractors and is different than a general business license issued by Washington State.
When a roofer is bonded, it means they have a surety bond. This bond is a promise to pay one party (you, the customer) a certain amount if a second party (the roofing company) fails to meet some obligation, such as fulfilling the terms of a contract.
An insured roofing company is a company that has Liability Insurance. Liability Insurance is purchased by the roofing company from an insurance company. The purpose is to protect the roofer and the customer from major accidents or injuries that could occur on a job site such as property damage or personal injury.
How do you know if a company is licensed, bonded, and insured?
In Washington State, the department of labor and industries establishes the bond and insurance requirements for contractors. Labor and Industries ensure that a contractor meets the proper bond and insurance requirements before issuing or renewing a contractor's license.
So the bottom line is: If you hire a licensed contractor, you don't need to worry about the bond and insurance because Labor and Industries have already verified that before issuing or renewing the contractor license. You can check on a contractor's status by clicking on this link.
What if someone gets hurt on my property?
If the contractor you hire is licensed, you have nothing to worry about. The workers' compensation program from Labor and Industries will pay for injuries to employees of the licensed contractor. If the person injured is not employed by the contractor you hire, the contractor's liability insurance would protect you.
How do I make sure that no one puts a lien on my home?
First of all, let's discuss what a lien is. As it pertains to a roofing project, a lien could be placed on your home by the roofer or by the roofer's material supplier. A roofing company might place a lien on your home if it is trying to collect money from you. The roofer's material supplier might place a lien on your home if it isn't paid by the roofer, for the materials delivered to your property.
You might ask why you could be responsible for paying your roofer's material bills. The reason is, in Washington State, the homeowner is considered to be ultimately responsible for the work that is performed on his/her property.
After your roof is completed, you can request that your roofing company provide you with a lien release from its material supplier before you pay the final bill. In this case, a "conditional release" would be given to you from your roofing company on behalf of the material supplier. The conditional release basically says that once you pay your roofing contractor, the material supplier will automatically release any lien rights to your property.
After you have paid your roofing contractor in full, you can request a "full release" from your roofing contractor, on behalf of its material supplier. If that seems like a lot of trouble to you, all this is avoided by simply hiring a reputable roofer that pays its bills. I would suggest checking with your roofer's material supplier to make sure your roofer pays its bills on time before worrying about lien releases.
The information provided above is not legal advice and Valentine Roofing does not guarantee its accuracy.