Peace Of Mind: Mitchell and Jim's Projects Are Underway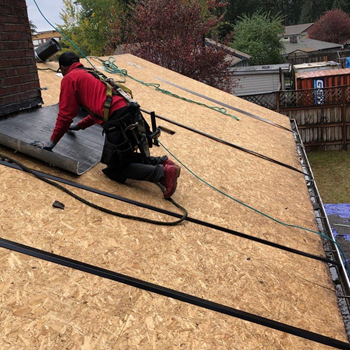 Our TWO Peace of Mind projects for our Veterans, Mitchell and Jim are officially underway and off to a blazing start! Despite the rainy weather, Rene and his roofing crew have already made a ton of progress over at Mitchell's in Tacoma, where we're checking in today.
All of the old three-tab shingles and existing materials have been removed and they've started laying down new Titanium X-30 underlayment, ice and water shield to high water volume areas, as well as installing new proper ventilation to keep air moving up and out of the attic. Next up, new Owens Corning Duration shingles in Onyx Black! The #1 rated shingle on the market will keep Mitchell and his home dry and protected for many many years to come. Oh, and we couldn't forget, all new blown-in attic insulation and new seamless gutters going in soon! We have a lot more to share this week, so be sure to stay tuned.