Peace Of Mind: Two Deserving Veterans Receive New Roofs Free Of Charge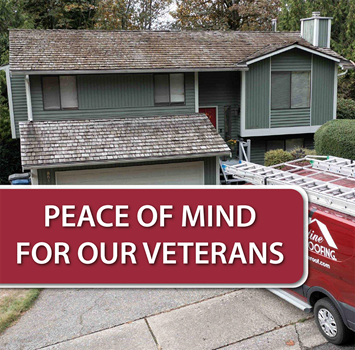 Valentine Roofing is excited to be continuing our newfound tradition of providing a free roof to not one, but two very deserving veterans this month! These new roofs (which are entirely free of charge) are made possible through our community initiative, the Peace of Mind program. With the community's help, we were able to find two veterans to give back to this season with the gift of a brand new Valentine roof as well as lasting peace of mind for years to come.

We are honored to have the opportunity to devote our last two Peace of Mind projects of this year to two extremely deserving veterans from our local community. We hold our veterans very close to our hearts and we're thankful to everyone in the community who nominated and are helping us bring free roofs to these fine gentlemen.
Meet Jim:
Jim is a proud USMC Vietnam veteran rated 100% disabled by the VA (associated with several service-related health issues). After his service, he continued to give back to the veteran community through his work with the Marine Corps League and American Legion post 161. He currently supports veterans through his position as commander of the VFW post 2995. Jim feels compelled to serve the community that provided him with brotherhood and support through his own rough transition back into civilian life after his time in the service (PTSD and survivors guilt). He had a long successful career in IT, working for the Seattle PI after his time in service. Jim lives with his wife in Redmond.

Meet Mitchell:
Mitchell's mother (Jeanne) knew from a young age that he was suited for service. From a young age, he enjoyed history and aviation. In fact, she spent many mother's days at the museum of flight with her very own, personal tour guide. After high school, he went to college but found himself drawn to the military. He joined the Marine Corps and was a helicopter mechanic as well as a crew chief. He proudly served his country and diligently saved to be able to afford his first home upon his discharge from the Marines. He invested his hard-earned savings into numerous necessary improvements to create a comfortable home. Unfortunately, after using all of his savings, he is unable to afford the new roof his home needs. Mitchell's home is located in Tacoma.
Keep an eye out on our social media channels this coming week for updates as these projects get underway!