Peace Of Mind: Wrapping Up Final Roofing Projects For Two Veterans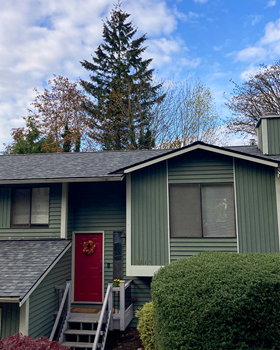 Both of our veteran's Peace of Mind projects have officially wrapped up, just in time for the rainy season ahead! Our amazing crews were able to knock out both Jim's new Estate Gray roof in Redmond as well as Mitchell's new Black Sable roof in Tacoma this week. Both received new gutters with their roofs as well, which were installed today at the tail-end of their projects.

We want to thank each and every individual who had a hand in bringing these two projects to life, from our installers, to experience managers, to our suppliers - it takes a multitude of hands to make projects like these a reality.

It was an absolute honor for us to be able to give these new roofs to Jim and Mitchell. Although we can never thank them enough or fully repay them for their sacrifice, we look forward to them having one less burden on their shoulders as they move forward into this holiday season.

We'll be back in 2023 with more Peace of Mind projects, so be sure to nominate someone you know that is in need of a free roof today. You never know what a simple nomination could do for a family member, friend, or member of your own community.