Salute to Veterans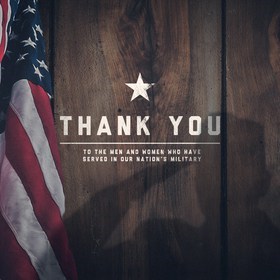 Veterans Day is a day dedicated to honoring the men and women throughout history who have risen to the call to serve this country. On this day we celebrate those in all branches of our military who are committed to defending our democracy and our constitution. We honor those willing to make sacrifices so that our freedoms and our children's freedoms remain. Thank you to all the Veterans today and every day. We salute you!
Originally named Armistice Day, this holiday began as the anniversary which marked the end of World War I. At the time, President Wilson proclaimed, "the reflections of Armistice Day will be filled with solemn pride in the heroism of those who died in the country's service and with gratitude for the victory, both because of the thing from which it has freed us and because of the opportunity it has given America to show her sympathy with peace and justice in the councils of the nations…".
The name change took place nearly 30 years later to honor ALL those who served in the military. After a brief date change in the 70's, Veterans Day returned to November 11th in remembrance of the armistice which went into effect on the 11th hour of the 11th day of the 11th month. Throughout the years one thing has remained consistent, and that is the gratitude every citizen has for the men and women who have served.
Recently Valentine Roofing had the honor of serving a local Veteran and his family through our Peace of Mind program. We had the privilege of providing Seth and his family with a flag pole. One of our field managers worked alongside small business owners Missy and Alexander to install the pole just in time for Veterans Day. These two Granite Falls, WA locals specialize in property and home maintenance and were excited to jump on this project.
The flag and pole are just a small token of appreciation for Seth's commitment and sacrifice for our community and our country. This year we send out a special thank you to Seth for his service in the US Army. We salute you!