The Best Way to Clean Your Roof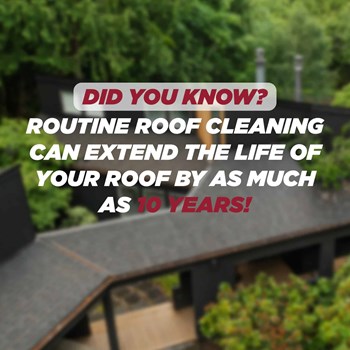 If you are anything like the rest of us here in Puget Sound you have recently looked up at your roof and noticed that you definitely have moss on your roof. You probably thought to yourself, "I need a roof cleaning." Then you followed that thought by typing 'roof cleaning' or 'moss removal' into your search engine. You definitely saw that there are a number of ways to clean your roof. Let's look at the best way to clean your roof in the Northwest and which ways to avoid.
Power Wash
Power washing is commonly used to clean exterior surfaces like patios, decks, driveways, and even siding. This style of cleaning uses high-pressure water to physically remove dirt and other loose debris from the area. While some companies have adapted this type of cleaning to roofs because it is fast, most roofing experts urge consumers to avoid this type of cleaning for their homes. The high-intensity cleaning methods will loosen shingle bonds, cause granule loss, and irreversibly damage your roof. While power washing might be effective for some outdoor spaces, do not use this method when cleaning your roof.
Soft Wash Moss Removal
The soft wash method uses a low-pressure system along with chemical applications that are intended to treat moss and algae. While this method is effective for moss removal, it is not effective for removing roof debris or cleaning gutters and downspouts. The soft wash method gently washes debris into the gutter system. This oftentimes creates a clog or blockage. Especially in the northwest where leaves, needles, and small branches often accumulate on the roof of a home. So while his method does account for moss and algae, it is not the preferred method here in the Northwest.
Dry Roof Cleaning
In the Northwest moss and algae thrive just about anywhere, including your roof. Using moss and algae treatment is important. Moss treatment, often referred to as moss killer, kills the roots of the plant and prevents moss from damaging your roof. This treatment will also kill algae. Algae feed on the organic components of roof shingles. Once applied the treatment will continue working for up to 12 months preventing the moss and algae from returning until your next service.
A Puget Sound roof cleaning has to account for more than moss and algae though. With an abundance of trees, roofs accumulate needles, leaves, branches, and other debris. So to avoid overloading the gutter system, debris should be physically removed from the roof. This can be done safely and effectively using low-pressure air or a soft bristle brush. Both methods are safe for roofing materials and will not cause damage to the roof.
Be sure your cleaning includes the gutters and downspouts as well. Rain often moves debris into a home's gutter system and can create blockages or clogs that inhibit water flow. Gutters and downspouts will need to have any build-up removed to make sure water can flow through the system.
Call Valentine Roofing
The three-part approach to a dry roof cleaning: remove debris, treat for moss and algae, and clean out gutters and downspouts, is the safest and most effective way to clean a roof in the Northwest. When it comes to your next moss removal be sure to hire a professional that understands how to properly clean your roof, like Valentine Roofing. Call (206) 766-3464 for your free estimate today!