Top Design Trends for 2021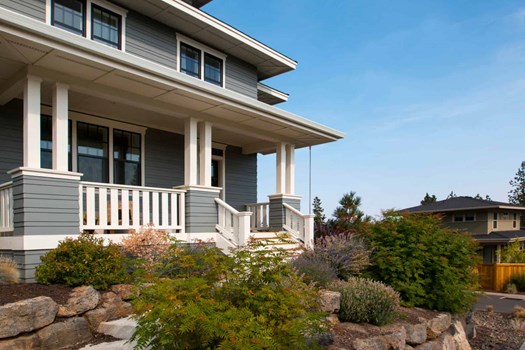 This year experts are expecting to see some new trends emerge in home design. Read on to see what some of the most anticipated trends are for 2021.
Exterior Mix and Match
This year will give rise to a mixing of materials and textures for the home's exterior. 2021 is looking like a great year for home improvement and if you are planning to make any updates to the outside of your home think about incorporating new materials into your existing structure. If your roof is on your to do list this year, switch it up by adding metal roof panels to a porch cover or dormers. Metal roofing comes in diverse color options that will compliment other roofing material, like composition roofing shingles. You will start to see more variations in siding types on the same home with accents in natural stone, board and batten and even cedar shingle siding. Adding variations in a home's material provides a quick update and visual interest for added curb appeal!
Color Swap
2021 looks like it will be swathed in soothing greens, warm golds, and vibrant blues. When it comes to home improvement design, you can add in trending colors in a timeless way. Add the warmth of golden tones with natural wood finishes on your flooring, furniture or decor. Incorporating more color into your home design can also be done by updating your roof. The Owens Corning roof color of the year, aged copper, incorporates this year's trendiest colors into a versatile and timeless option. The patented tri-color blend lends itself to a variety of siding and home colors as well as varied design elements. An easy color update can happen with interior and/or exterior paint. Choose a natural green inspired from your garden shrubbery or a vibrant blue that brings a burst of energy to your space.
Embrace the Outdoors
This year we will see more utilization and incorporation of outdoor spaces into our homes. Many people find the outdoors brings a calming zen into their lives and will look for ways to bring the outdoors inside. This can be accomplished in a number of ways. A quick way is to incorporate more plants into your home, like a new kitchen window herb garden, or a collection of succulents highlighted along a bookcase. Opening up any space with updated windows and skylights will add an influx of natural light to the room, bridging the gap between the two worlds. Reclaiming an outdoor space that is currently underutilized by adding a covered will increase year-round usability. Whether you are looking for a big change or a small improvement, looking outside for inspiration will be a big win in 2021. Incorporating new design trends can invigorate any space. From small changes like adding more house plants, to bigger home improvements projects like a new and updated roof featuring a mix of materials, new design can add a trendy yet timeless update that will bring you joy for years to come!