Top Home Improvement Projects to Put on Your List for 2021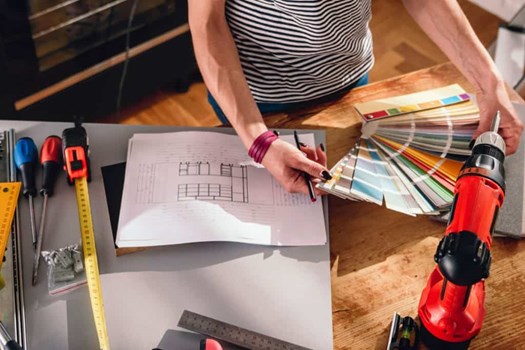 After spending a year at home most of us have created an expansive to-do list. Now that the new year is here, let's prioritize that list because there are some home improvement projects that you should plan to tackle first in 2021. Whether they provide the best return for your investment or create a big change on a budget, these six updates are all sure to provide the biggest bang for your buck.
The benefits of replacing your home's windows are boundless. New windows will allow more light into your home, making your space feel bigger and more inviting. You may have also found that more time at home has led to higher energy bills, window replacement can help with that. New windows are more energy-efficient stemming from advancements in technology and manufacturing which can help lower your energy bills. With one of the best returns on the cost of any home improvement project, it is no wonder that windows top the list of 2021 home improvements to tackle.
#2 - Home Office
As people continue to work from home, participate in distance learning, and even attend events virtually, the need for a dedicated home office space has taken precedence for many homeowners. Think of a space that is currently underused in your home, like a nook in a finished basement, a corner in your kitchen, or even your guest bedroom. Now is the time to reclaim this space and carve out a new office that you are proud to show off in your next zoom meeting!
Think outside the box this year when it comes to upgrading your home and invest in one of the best ROI home improvement projects for 2021, your roof. Your roof does a lot for your home, like protecting it and your family. It can also add visual interest and curb appeal to the exterior of your home and is a great investment with excellent returns. Mixing up roofing materials and color can update the exterior of your home, giving your biggest investment, your home, a fresh new look. Manufacturers have made huge improvements in not just the technology of roofing materials, but also finishes, color options, and aesthetic appeal. Put your roof on the list for 2021 and protect that new home office you also have planned.
#4 - Updated Color
One quick and cost-effective way to make a big splash with your home improvement is to update the color of your home. Whether indoor or outdoor, a new color can bring a fresh perspective to a space that has begun to feel old or underwhelming. Color can come from a variety of places. New paint is a great way to update the color of your home's interior or exterior. If you already plan to replace linen, decor items, indoor furniture, outdoor furniture, or your rugs, you can reimagine your space with a refreshing new take on these items by introducing new colors. Don't discount color when it comes to larger home improvement projects like roofing and garage doors. With a variety of material options, you can really bring your home to life with color! Lean on 2021 color trends to guide your color decision. Stick to warm gold tones, like copper, brass, and natural wood. Soothing greens are also on the rise, providing a tranquil feeling in any space. Vibrant blues take the lead this year and stem from the wave of blue that took over in 2020. Don't be afraid to take a fresh approach to your color choice when updating your space.
#5 - Garage Door
Most of us are not using our garage door as much as we used to but that doesn't mean you should cross it off your list of home improvements. According to the 2020 cost v value report, the garage door is a top ROI project for home improvement. With updated insulation technology, new colors, and hardware options, a new garage door can add visual appeal while helping to better insulate your garage space and ultimately your home. One bonus feature of a new garage door system is that many new garage door openers are digital. You can use your smartphone to receive alerts from your garage as well as open and close the door itself. Improve functionality along with curb appeal by upgrading your garage door and your opener.
#6 - Outdoor Entertainment Space
Updating or creating an outdoor entertainment space will make your home feel bigger. Outdoor space has become a premium as more folks work from home and seek to entertain in a more intimate setting. We know that in the Northwest outdoor spaces can be tricky, so partially enclosed spaces with a solid roof offer the most use from season to season. Incorporating large windows and skylights will help let more light into the outdoor space while still keeping you and your family dry year-round. You can cover an existing patio or deck or update a detached shed to create a usable space for entertaining right at home.
Whether you are looking for a change to keep your home feeling fresh or you are looking for a return on your value for a future home sale, these six home improvement projects will prove to be a great choice in 2021!