Year Round Roofing in the Pacific Northwest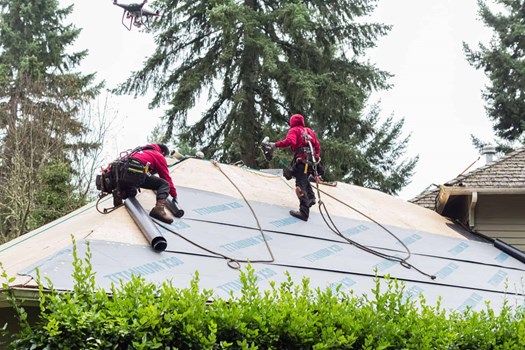 As we transition into the Fall season here in the Pacific Northwest, we also move into the rainiest period of the year bringing several inches of rain, high winds, and generally unpredictable conditions. These uncertain and harsh weather conditions present major challenges to exterior home improvements such as a roof replacement. Although the weather creates additional hurdles not often experienced in dryer months, Valentine Roofing is uniquely positioned to safely and efficiently install roofing systems year-round throughout the Puget Sound region.

As always, the safety of our roofing crews and customers, as well as the efficiency and quality of workmanship in each roof installation is top of mind for us at Valentine Roofing. There are several steps we take in our roof replacement process to ensure roof installations goes safely and smoothly, in every season. First and most importantly is that we will never tear off your old roof while it's actively raining. Removing composite shingles, metal paneling, or other roof materials in the rain will expose layers of material such as your roof deck which can cause water damage that would normally be preventable.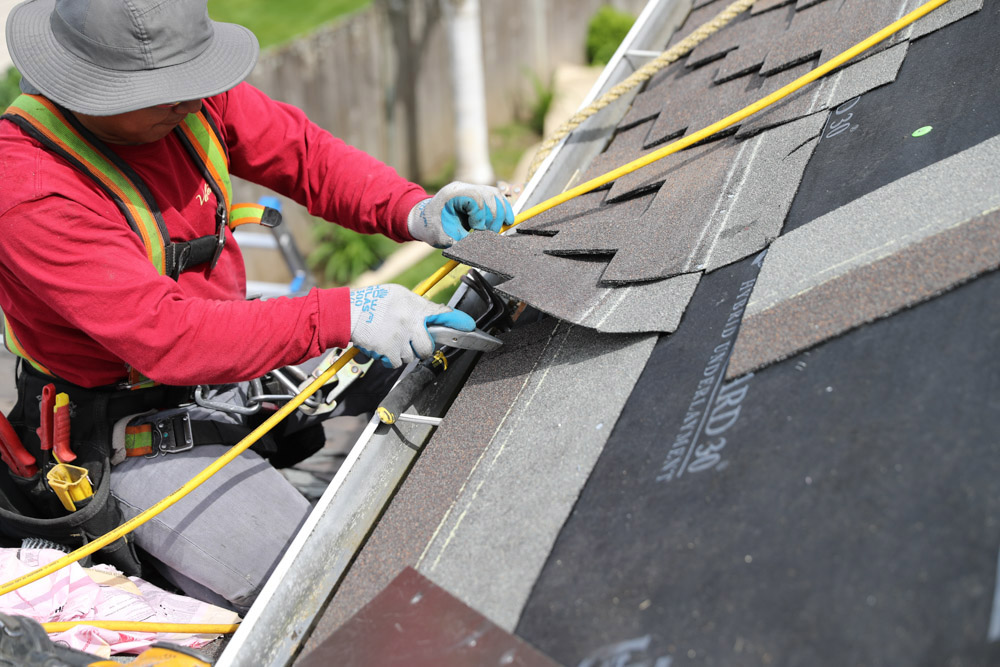 Removing a roof in the rain leaves your home exposed and without defense, enabling water to pour down and begin to form leaks. By keeping an active pulse on the ever-changing weather patterns, we strategically schedule projects - and roof tear-offs specifically, to be performed when precipitation is low or non-existent. While new roofing materials can get wet during installation, it's best to install underlayment when it is dry. If underlayment or decking do receive moisture at any point during the roof installation, the material will naturally dry out during the installation process and is meant to withstand moisture.
With the technological advancements in roofing today, materials have become increasingly more durable and efficient in the elements. In the Northwest where the rain and moisture never truly go away, it's critical for roofing contractors to use products that enable safer and more efficient installation. We install Titanium X-30 synthetic underlayment, a Valentine Roofing and Owens Corning collaborative product that offers superior protection, value, and walkability during installation. TX-30 is the latest and greatest, all-weather underlayment solution designed specifically for our Pacific Northwest climate. Installing Titanium X-30 allows our roofing crews to work more safely and efficiently in wet weather conditions. Unlike other organic and hybrid underlayment options, TX-30 will not break down or become unsafe to walk on in extremely hot, cold, or wet conditions. Titanium X-30 rolls are lighter while providing more coverage which allows crews to work faster and more efficiently - shortening the installation time frame while keeping safety paramount.
As Northwest natives, we know what it means to be adaptable to every weather scenario. Even though the rain never comes to a complete stop during the fall and winter months, Valentine Roofing only needs a day or two of clear skies to perform most roof replacement projects. If you've put off replacing your roof or discover you're in need of a new one in the coming months, trust Valentine Roofing is the local year-round roof replacement specialist that will deliver the best in workmanship and customer service. Contact us today for more information about our year-round roof replacement services!