Meet The Knieriem Family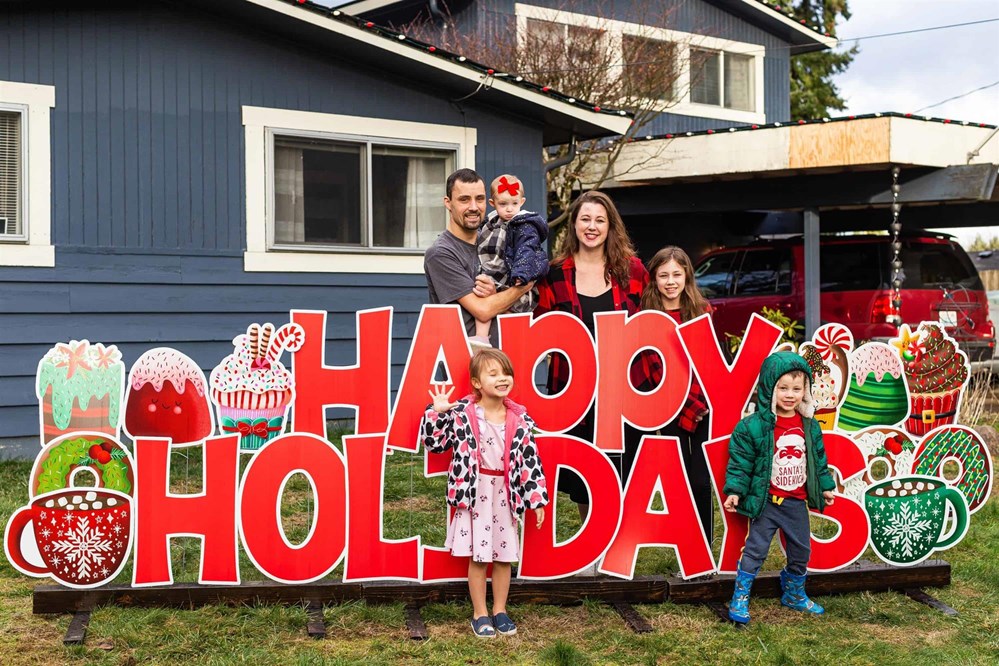 The Knieriem family doesn't just persevere in hard times, they find ways to thrive. Furthermore, they help others in their surrounding community thrive, often putting their own worries aside. So when COVID hit, Stephanie joined her local bus driver union board to help her fellow bus drivers navigate each new change despite her own status as a furloughed driver. When she is driving a bus for the Puyallup School District, Stephanie puts the students, their safety, and their overall well-being first. She most enjoys supporting the kids on her bus route as they blossom. Being a bus driver shines a light on Stephanie's positive nature and ability to make meaningful connections with others, a trait she has passed along to her own children. She's one of the most caring and giving people that I've ever met in my life. She will bend over backward to help people in need, and she loves her students so much. She's also a mother and a wife. SARAH J, ABOUT STEPHANIE Stephanie is married to Brandon, a hard-working husband, and father, willing to take on multiple jobs to provide for his family. Despite working long hours, Brandon delights in finding ways to create and build, using his craft to construct items for the family home. With 5 children, ranging in age from 1 to 16 years old, the Knieriem family was excited to purchase their dream home during the summer of 2020. Moving into their larger home, each family member looked forward to finally having a space of their own. From new paint to a DIY cabinet reface, the family set to work making their new house feel like home. Between Stephanie's eye for design and Brandon's renovation skills, the new space quickly started to take shape. Unfortunately, shortly after purchasing their home issues began to arise, taking up much of the family's attention and finances. The furnace system was failing, requiring a new unit to ensure that the home would stay warm through the impending winter. In addition, the family found they needed a new oven after Stephanie discovered the current oven was not working properly. With COVID affecting both Stephanie and Brandon's positions at work, the family had limited finances and a growing list of to-dos for the house. They began to worry that some of the needed home repairs would be placed on the back burner, like a new roof. After supporting their friends, family, and community through many ups and downs during the pandemic, it came as no surprise that a fellow Puyallup School District bus driver, Sarah, returned that support by nominating the family for the Peace of Mind program.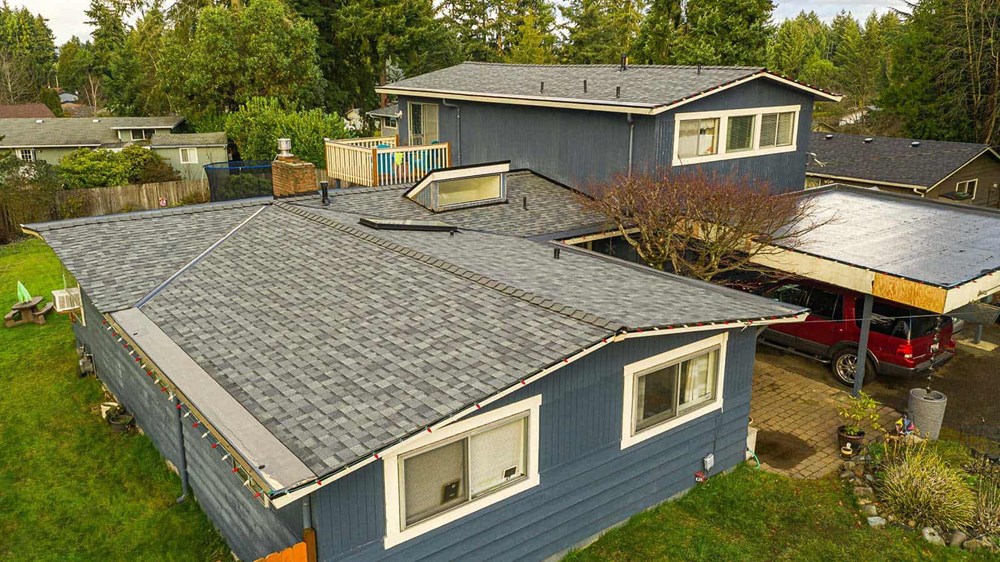 She's one of the most caring and giving people that I've ever met in my life. She will bend over backwards to help people in need, and she loves her students so much. She's also a mother and a wife.

Sarah J.
In December of 2020, we completed work on the low slope roof that showed signs of leaking. Once the old shingles were removed it became clear that the previous roof would need a complete resheet. After removing the plywood, the Valentine Roofing crew found that the insulation between the rafters was blocking the airflow from the intake on the upper roof, resulting in moisture buildup. The crew set to work correcting the ventilation issues before installing the new roofing system complete with CDX plywood. The low slope roof required ice and water shield as standard installation, a great underlayment that will protect from future leaks, a common issue with low slope roofs. Owens Corning Duration Flex® shingles were chosen for the project because of the patented SBS technology that ensures a superior cold weather installation. Other shingles can become brittle in cold weather, tearing, and breaking during install. Once the new roof was completed the crew set to work on the carport, repairing the damaged corner, resloping the carport roof deck and installing a new drainage system that carries water away from the walkways. The new PVC membrane will now provide lasting protection for every season. The project was completed just in time for the holidays, allowing the family to focus on the spirit and peace of the season. Owens Corning and Stoneway Roofing supply generously donated all needed roofing materials. ABC Supply donated their delivery service for the shingles.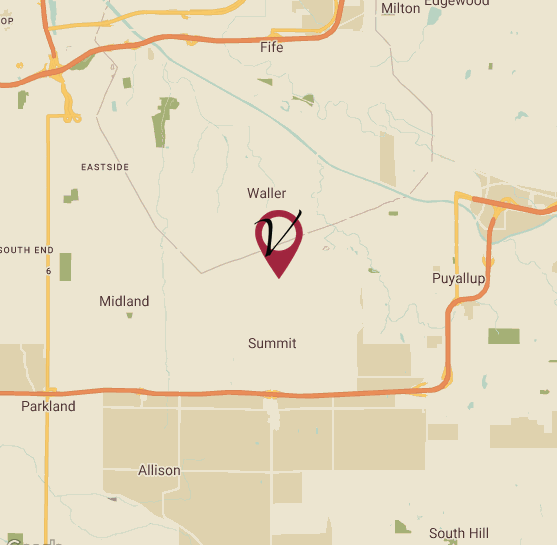 Project Specs
LOCATION: Puyallup, WAA
ROOF TYPE: Low slope composite roof with flat roof on carport
ROOF PITCH: 2.5/12
SHINGLE TYPE: Owens Corning Duration Flex
SHINGLE COLOR: Estate Gray
GUTTER TYPE: Built in gutters
GUTTER COLOR: Relined with PVC membrane
JOB NOTES: New baffles were installed on the upper roof allowing for balanced ventilation and proper airflow. Duration Flex® shingles were installed over ice and water shield for superior weather protection on a low slope roof. The built-in gutters were relined with PVC. The carport was in disrepair and required repair. The crew was able to upgrade the drainage system on the carport to include a new rain chain and water basin. The entire project took 7 days to complete.