Three Parts of a Great Roofing System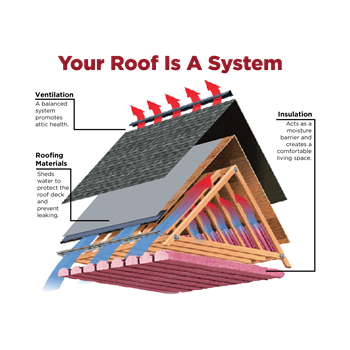 More than just the roofing material you choose, a comprehensive roofing system will include components and layers of material that work together to protect your home from mold, mildew, and water penetration. Every Valentine roof replacement project includes three main components for a complete system.
Ventilation - An attic with healthy airflow is a key element to a balanced system. Equal parts intake and exhaust ventilation promote proper airflow through the attic. Managing temperature and moisture.
Attic Insulation - Insulation acts as a barrier between two spaces with unlike climates. It prevents moisture from inside the home from traveling into the attic where it can cause mold and mildew. A properly insulated attic also provides more effective climate control. Keeping heat where it belongs, outside in the summer and inside during the cold winter months. Resulting in a more comfortable living space.
Roofing Materials - Designed to protect your home from the elements, an effective underlayment will seal the roof decking and attic by creating a waterproof barrier underneath the roofing material. A durable shingle, metal panel, or PVC membrane will create a layer of defense that acts as the main shield repelling rain and moisture from the roof.
This system effectively protects your entire home from mold, mildew, and water penetration. Valentine Roofing goes even further with our Valentine Signature Look. Our approach to ensuring your roof is as beautiful as it is effective. You can always tell a Valentine roof by the clean straight lines and color matching roofing accessories and flashings. Our roofs always look professional and sleek when we are done.Contact us today for your free estimate!